TO ALL OUR SUPPORTERS
WE HOPE YOU CONTINUE YOUR SUPPORT IN THE NEW YEAR.



WEDU Bemore

WWE Westlemania37 & Titus O'Neil

Outback Bowl Tampa Bay
Nat'l Christian Foundation Tampa Bay/ Dallas Construction & Dev. Inc.
Tampa Gem Sertoma Club Inc.

Pilgrim-Titan Foundation- Richard & Anne Atlas
Bruce & Beth Johnson

David & Bridget Lutterbach

Pay It Backward Foundation Inc. - Tony March
Charity Polo Classic Inc.

Robert G. & Ellen S. Gutenstein Family Foundation
Dana Long
Barbara Balmenti
Robert W & Deborah Botteron
Mary Ann Hill
Bobby Ward & Lynelle Gable
Robert M. Ward Jr.

CONTACT INFORMATION:
P.O. BOX 130192
TAMPA, FL 33681
Email: info@mrbshowers.com
Facebook: mrbubblez Inc showers
Instagram: @mrbubblezshowers
Monetary donation:
Paypal-https://www.paypal.com/donate/?hosted_button_id=54XG7QJ23QY8L
OR
Cash app - $Mrbubblez4
OR

Mail your check to
P O Box 130192 Tampa, FL 33681
DONATIONS LIST
Tooth Paste (travel size) (great need)
Tooth Brush (great need)
Deodorants (travel size) (great need)
Bath soap or Liquid bath wash/shampoo
Disposable razors
New or slightly used clothing (men & women)
all sizes- pants, shirts, dresses, etc.
New underwear-only (men & women) –all adult sizes
(great need)
New socks-only (men & women)- all adult sizes
(great need)
2oz hand sanitizer
D - Batteries



Mrbubblez Inc. is a 501(c )(3) nonprofit organization whose sole purpose is to provide a safe and secure place for homeless families, men and women to take a hot shower. Mrbubblez Inc. provides individual shower units, personal hygiene items (soap, deodorant, shampoo, toothbrushes, and toothpaste), facial and bath towels, new undergarments and a set of clean clothing. This service is provided free of charge. The shower trailers is accessible at scheduled times on the weekends at different locations throughout the Tampa Bay area. This service is provided in partnership with the community, local business and different organizations to help our homeless population regain their
pride and dignity.




MOTTO:

I SEE YOU & I CARE


OUR MISSION
TO HELP THE HOMELESS MAINTAIN THEIR PRIDE & DIGNITY WITH THE CLEANSING OF THEIR
BODY & SOUL AND TO RESTORE THEM INTO THE COMMUNITY.
OUR VISION
TO BECOME A PERMANENT FACILITY THAT PROVIDES
SERVICE TO HELP THE HOMELESS MAINTAIN THEIR BASIC HYGIENE NEEDS.
A CLEAN BODY AND SOUL RAISES THEIR SELF-ESTEEM AND HELP
REGAIN THEIR DIGNITY.

VOLUNTEER CENTER & SHOWER SCHEDULE

VOLUNTEERS

Volunteers are servers of others that just need a helping hand.
You may ask your self " Do I have anything to give others". Yes you do, your time, your kind heart and your smile.
Come join our team and share your gift with us and the people we serve in our community.
We have people that volunteer with us traveling from Orlando, Lakeland, and St. Petersburg are just a few cities our volunteers travel from to help serve our homeless neighbors. Even church groups, food banks, and other caring people come right here from our Tampa Bay community show up because our homeless neighbors are close to their hearts as well.
With their needs in mind, our great volunteers are always collecting donations in preparation of upcoming events. When the community calls on us to serve, this outstanding group of volunteers keep us in a READY, SET, GO position.
A shower, where can I get a Hot shower?
This is the question that the homeless men & women of Tampa Bay search for the answer every minute, every hour, and every day with everything else they have to deal with.
I have the opportunity and the honor to serve the homeless for many years and I still serve them today.
A young lady, one day approach the desk at the outreach center where I serve.
Her hair and clothes was a little dirty, her face was a little cleaner than her hair and clothes, there was dirty under her small finger nails and she had an unpleasant smell to her body.
I ask her "How can I help you"? She replied in a soft baby like voice "A shower, where can I get a Hot shower"? I have heard a lot of request for clothing, hygiene items etc…. but, her requests strike me to my core, to think that a female had no way to refresh herself from day to day. I could not get her words out of my mind.
But whoever has this world's goods, and sees his brother in need, and shuts up his heart from him, how does the love of God abide in him? 1John 3:17 (NKJV).
So that started my search for a solution to this basic need and to find that solution quickly. That is how the concept of Mrbubblez Inc. was born (portable showers for the homeless). I went into pray about the need of others; God gave me a vision for the portable showers (to take the service to the people).
My research begins; talking with other people, seeking information how to start a nonprofit organization and how to serve the community with excellence and with integrity. The plans for Mrbubblez Inc. was coming along as planned, when life took a sudden turn which was a big hit to my health the Big C (stage 4 colon cancer) in 2015. With God and my belief in the vision he gave me to see it through, so I had to be healed by God and His love. Here I am, healed and Mrbubblez Inc showers have now blessed over 750 people.
With Gratitude,
Marcia Hall
Zeta Phi Beta Sorority Inc.
Honored Founder & CEO Marcia Hall
Mrbubblez Inc is the winner of WEDU Be More Unstoppable 2019 Nonprofit of the Year Award

Thank you all for your support.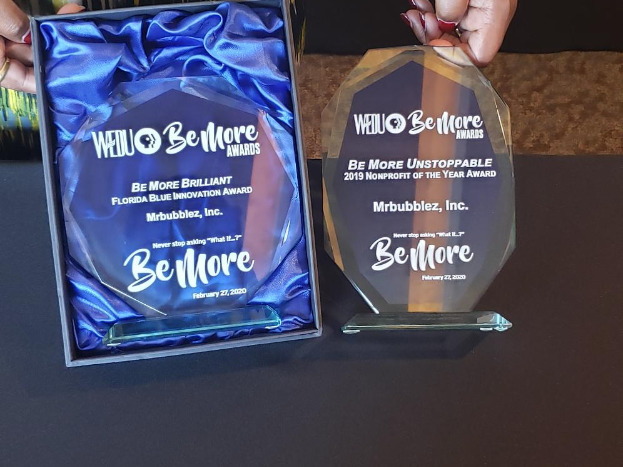 Mrbubblez Inc is the winner of WEDU
Be More Brilliant
Florida Blue Innovation Award


Mrbubblez Inc , WEDU Be More Unstoppable 2020 Nonprofit of the Year Award winner featured on WEDU "Up Close" program.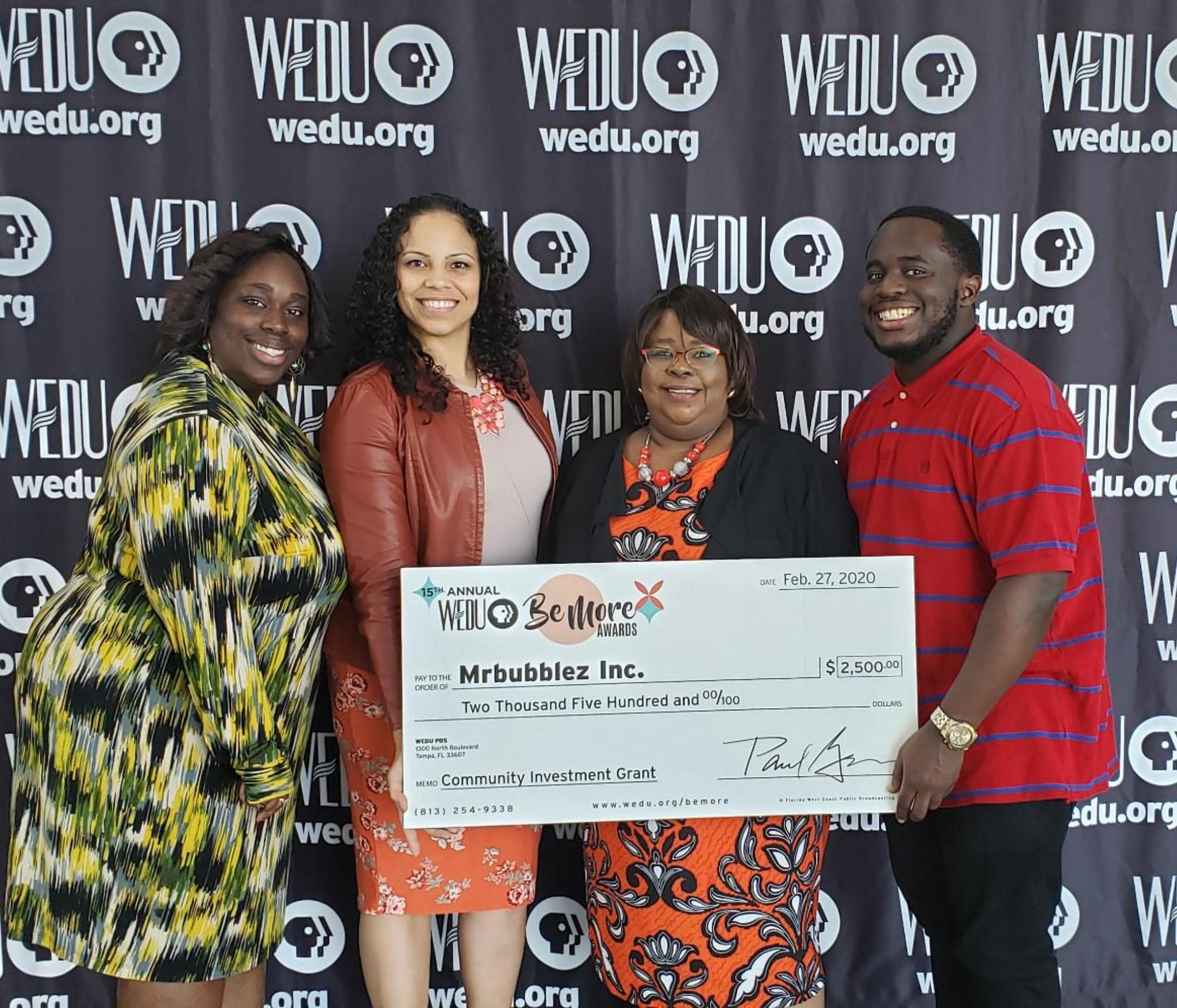 WWE Wrestlemania 37
Community Champion

Tampa Organization of Black Affairs- Dr. Martin Luther King Jr
Unsung Hero Award

Mrbubblez Inc.'s Founder and CEO was honored by the Tampa Sertoma Gem Club (Sertoma-Central Florida District) with the "Service To Mankind" award.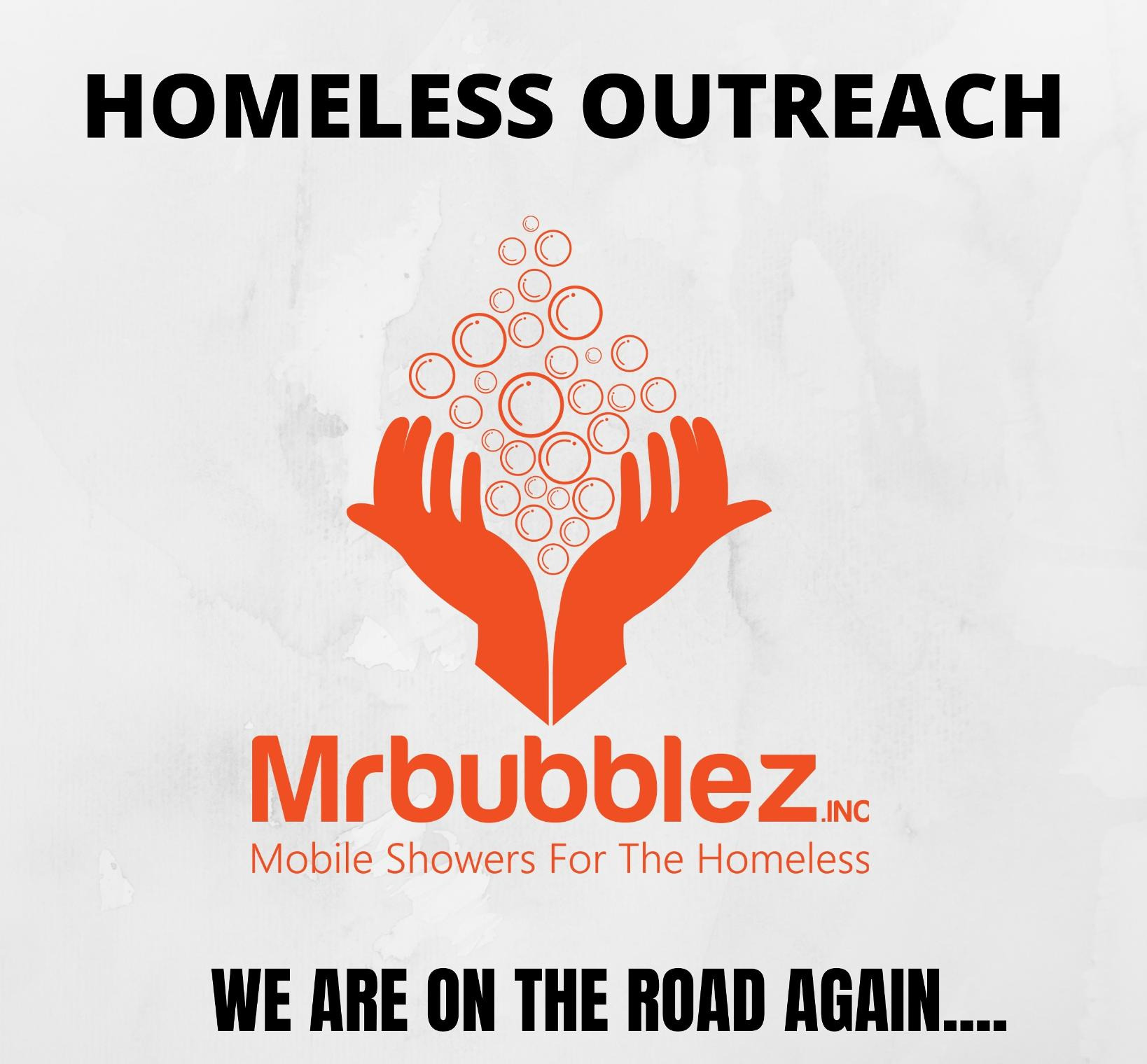 Mrbubblez showers
serve the community with a service that transforms lives with a drop of water.We here at Mrbubblez want to give a little hope to ones in our community that need HOPE more than ever. The homeless have limited places (businesses restrooms, convenient stores, parks etc.) to wash up and take care of their basic hygiene needs. Mrbubblez is a mobile unit that provides showers, and we provide them with clothing, undergarments, socks, haircuts, and a hygiene bag and also give them other resources to better their lives. This service is free to anyone that wants a hot shower. 7/28/21

Unstoppable....

Mrbubblez showers is Unstoppable in serving our homeless neighbors.
Mrbubblez showers provided our homeless neighbors with HHB (Healthcare Hygiene bags) included face masks and hand sanitizers as we face the 2020 pandemic.

I See You & I Care
7/28/21

Client Story- Simon struggles to make ends meet. He has multiple jobs but unfortunately, he still can't find affordable housing and is homeless. When Simon came to our mobile shower event, he was glad that he found a place where he could find assistance to help alleviate stress and make him feel brand new again. With your support Simon found the help he needed and gained his confidence back.
We should add to his story: what he finds at our event (hope, compassion and love) and a hot shower and clean clothing. #ISeeYouandICare

David's smile is long time coming.
David stated, "I had no reason to smile for six months, but today I find a reason."
David was so happy he had just received a hot shower, clean clothing and felt the love from our volunteers.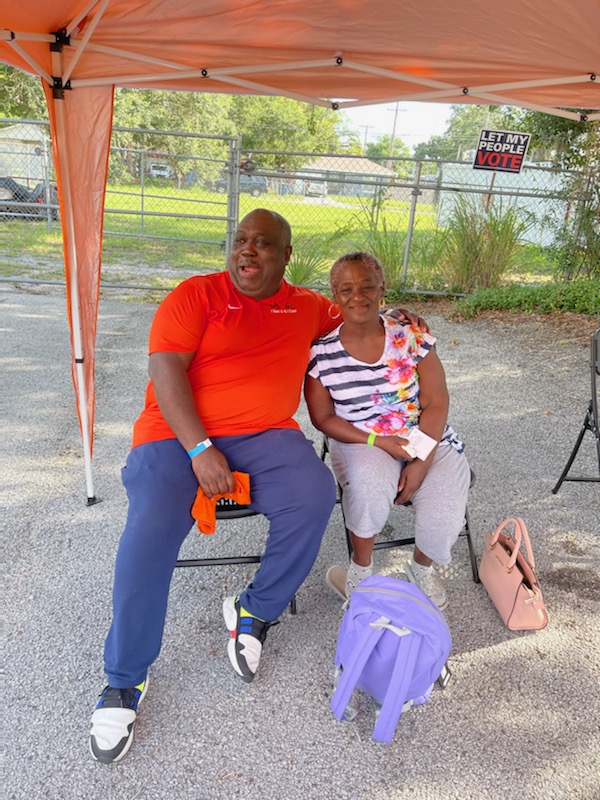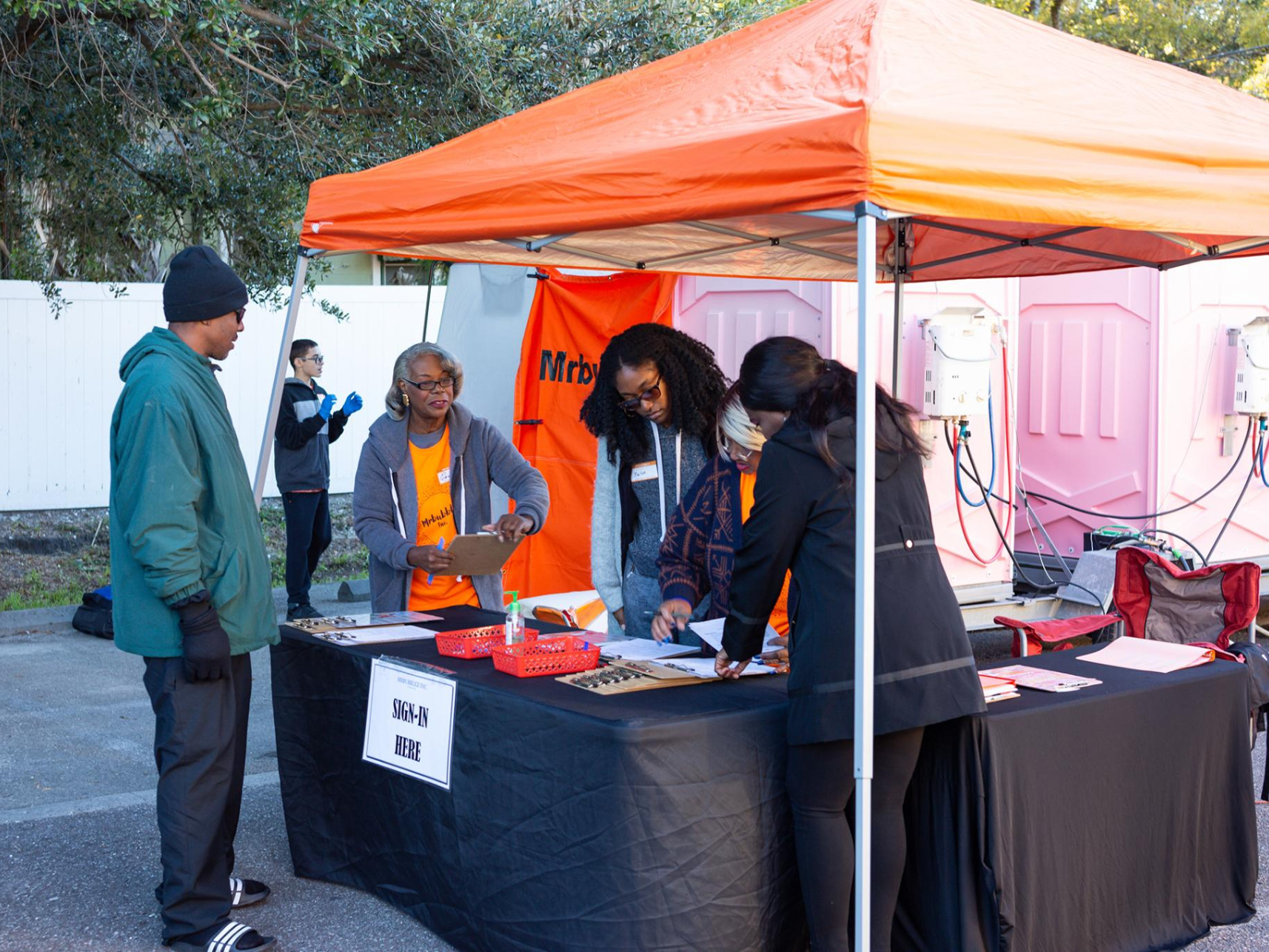 CALL TO ACTION 
SHOW YOUR HOMELESS NEIGHBORS

"I SEE YOU & I CARE"...
I SEE YOU Donations:
(supplies)

New disposable razors-

only
New or

slightly

used clothing (men & women) all sizes- pants, shirts, dresses



New underwear-

only

(men & women)
all adult sizes
New socks-

only

(men & women)

all adult sizes
***Email us to schedule a pick up /drop off for donations***
Volunteers:
Welcome Table Greeters

Runners

Shoppers




Deck Overseers

Timers

Shower Monitors

Caring Crew
I CARE Donations :
(monetary)
Van rental fee

Storage fees

Transportation expenses

Equipment repair and replacement fees

Operational expense
Over the last five years, Mrbubblez has provided over 800 showers, give away over 4000 pieces of clothing, over 800 of hygiene items include new underwear and socks to men, women and families that is experiencing homelessness or at risk of being homeless.

Because our shower units are mobile, we can meet individuals where they are in the community and ensure that they have an opportunity to care for themselves in a way that many people take for granted. Our goal for the years to come, is to expand our area to service more and more people.
Mrbubblez is one of its kind in the Tampa Bay area. Our service delivery model is innovative, as we are the only mobile shower provider in Hillsborough County. Providing mobile showers allows our clients the basic dignity of cleaning themselves, and also gives them the encouragement and care they need to make it one more day. Our volunteers create a safe space where clients can feel refreshed and restored, allowing them to feel loved and valued.
Our motto is "I SEE YOU & I CARE." We live out this motto by treating each person with respect and honoring their humanity by providing these basic services.

Contact us to Volunteer or Donate